Nearly one in eight U.S. motorists is driving around uninsured and putting insured drivers at greater risk in the event of an auto accident, according to a study.
The study, directed by the Insurance Research Council (IRC) and co-sponsored by The Hanover Insurance Group, found that 13 percent of all U.S. motorists were uninsured in 2015, up from 12.3 percent in 2010, following a seven-year decline from a high of 14.9 percent in 2003.
When an uninsured driver is at fault in an accident, insured drivers or their insurance companies often are left to pay for the resulting physical damage and health costs. Similarly, an underinsured driver may not have high enough policy limits to cover all costs of damage.
"The results of the survey sound an alarm," said Daniel Halsey, president, personal lines, at The Hanover. "Uninsured motorists represent a significant risk to insured drivers."
Halsey said the average cost of an uninsured motorist claim is about $20,000, excluding any physical damage to the vehicle.
Despite the fact that 49 states require car insurance, some drivers choose to drive without coverage. The number of uninsured motorists varies by state, ranging from a low of 4.5 percent of all drivers in Maine to a high of 26.7 percent in Florida, according to the IRC.
Mississippi, New Mexico, Michigan and Tennessee are with Florida in the top five states based on rate of uninsured motorists, while North Carolina, Massachusetts, New York, and Maine have the lowest rates.
Despite the recent increase in the countrywide rate, several states experienced significant declines. Oklahoma's UM rate in 2015 was 10.5 percent—15.4 percentage points lower than in 2012. New Mexico's fell from 29.8 percent in 2006 to 20.8 percent in 2015.
However, twice as many states saw their UM rate increase as decrease from 2010 to 2015.
"While some states saw significant drops in their uninsured motorists rates, overall, the rate is increasing nationwide," said Elizabeth A. Sprinkel, senior vice president of the IRC. "This can mean added risk for all motorists."
The Hanover used the results to urge drivers to discuss uninsured/underinsured motorist coverage with their independent agents. Generally, it is a good idea for motorists to have the same amount of uninsured and underinsured motorist coverage as bodily injury coverage, according to the insurer.
Th IRC study, Uninsured Motorists, 2017 Edition, examined data collected from 14 insurers representing approximately 60 percent of the private passenger auto insurance market in 2015.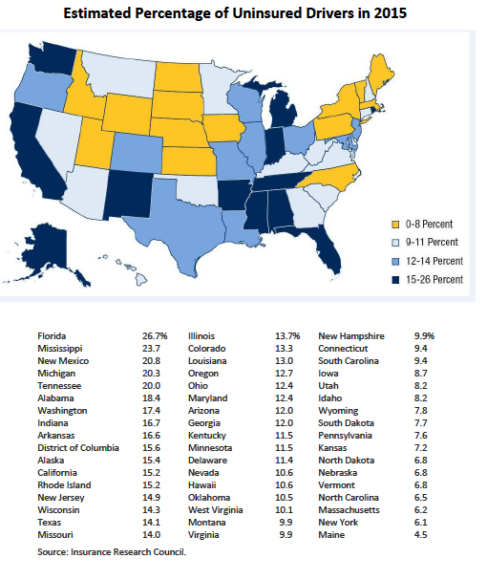 The death toll from Hurricane Irma's catastrophic rampage across the Caribbean and the southeastern U.S. has risen to 44 fatalities directly caused by its strong winds and heavy rains, plus 85 fatalities indirectly linked to the storm, according to a report released Monday by the U.S. National Hurricane Center.
Eighty of the deaths indirectly linked to the hurricane came in Florida, caused by falls during storm preparations, vehicle accidents, carbon monoxide poisoning from generators, chain saw accidents and electrocutions, the report said.
Fourteen people who died at a Broward County nursing home that lost power and air conditioning after the storm were included in the tally of indirect deaths in Florida. In an email Monday, officials with Florida's Division of Emergency Management said they had counted 11 deaths at the nursing home among 84 storm-related deaths in the state. Twelve fatalities at the nursing home are being investigated as homicides.
Most of the direct deaths occurred in the Caribbean. The report said seven happened on the U.S. mainland: In Florida, two people died when their tent became submerged in freshwater flooding, one man fell in a canal while checking on his boat during the hurricane, and a gust of wind caused one man to fall and hit his head after opening his front door during the storm. Falling trees were blamed for two deaths in Georgia and one in South Carolina.
Hundreds of people were injured before, during or after the hurricane, which prompted evacuation orders for nearly 7 million in multiple states, the report said.
Irma made a total of seven landfalls, including four as a Category 5 hurricane. Damage estimates throughout the Caribbean could top $3 billion, according to the hurricane center.
The damage included leaving the small island of Barbuda nearly uninhabitable and destroying most schools and severely damaging the only hospital on the island of Anguilla. Irma was the first Category 5 hurricane to hit Cuba in nearly a century, directly causing nine deaths, damaging tens of thousands of homes and destroying hundreds of poultry farms.
The Caribbean Hotel and Tourism Association reported last month that huge numbers of hotels remained closed on islands directly blasted by hurricanes Irma and Maria.
The National Oceanic and Atmospheric Administration has already ranked Irma among the top five most expensive hurricanes in U.S. history, causing $50 billion in damage, mostly in Florida.
The damage was the most severe in the Florida Keys, where Irma struck as a Category 4 hurricane, according to the hurricane center's report. However, Irma's massive wind field and heavy rains also caused widespread tree and power line damage statewide, along with significant losses in orange groves and record-breaking flooding in Jacksonville.
Irma also spawned 25 tornadoes, according to the report: four in South Carolina and the rest in Florida.
Federal disaster officials are ending a program that paid for hotel rooms for more than 27,000 Florida households in the wake of Hurricane Irma.
FEMA officials announced Tuesday that the short-term emergency sheltering program will end March 10, six months after Irma hit the Sunshine State.
At the request of the state, FEMA extended the temporary hotel program five times over the last six months.
More than 26,000 households have already moved out after making home repairs or finding suitable longer-term housing.
FEMA has been working with survivors to help them identify resources and develop a long-term housing plan.