Thursday, October 10 2019
Since Hurricane Michael made landfall Oct. 10, 2018, federal assistance for recovery in the 18 affected counties is nearly $1.9 billion, including FEMA grants, National Flood Insurance Program payments and U.S. Small Business Administration loans, according to a statement from FEMA.
Included in that figure is an estimated $224.1 million in claims paid to 4,270 NFIP policyholders, FEMA said.
One year has elapsed since Hurricane Michael pummeled the Florida Panhandle, packing 155 mph winds, torrential rain and high tides and displacing thousands of families amid structural damage that will cost billions to repair.
Twenty-five federal and 29 state agencies responded to one of the country's most powerful storms. In addition to state and federal agencies, the local governments, community leaders, voluntary and faith-based organizations and private sector partners contributed to hurricane recovery efforts.
FEMA said federal assistance for Hurricane Michael, as of Sept. 30, 2019, includes:
Nearly $319.7 million approved in FEMA Individual Assistance:
Nearly $121.3 million approved for housing repair costs, home replacement and rental payments.
Nearly $19.7 million approved to replace essential household items and for other critical disaster-related costs.
More than $70.2 million provided to FEMA's direct housing program for purchasing housing units, renting housing pads and unit maintenance.
Nearly $51.8 million approved for immediate disaster services including food, water and emergency sheltering.
More than $56.7 million obligated for crisis counseling, disaster case management, disaster legal services and disaster unemployment assistance.
31,386 households were approved for housing assistance and other disaster-related costs such as home repair, rental assistance and replacing essential household items.
From October 2018 to April 2019,2,058 displaced households received hotel lodging through FEMA's Transitional Sheltering Assistance program, totaling $16.7 million in assistance. The program ended in June and more than 2,000 households were provided lodging at no cost as they pursued and successfully secured permanent housing options.
925 households have participated in FEMA's direct housing program, which provides travel trailers or manufactured housing units on private property, in mobile home parks or at FEMA group sites. At present, 284 households have successfully moved on to more permanent housing by completing basic home repairs or finding a rental property.
The U.S. Small Business Administration approved 12,730 low-interest disaster loans to homeowners, renters and businesses for more than $644.7 million.
Nearly $496.6 million in Public Assistance grants approved for Hurricane Michael-related reimbursements to state and local governments and certain nonprofits, including:
$283.2 million for debris removal (32.9 million cubic yards of debris removed, according to designated county reports from U.S. Army Corps of Engineers [USACE]).
$181 million for emergency protective measures.
$32.4 million for permanent repair work.
Under a mission assignment from FEMA, USACE installed 7,800 blue roofs, enabling families to live in their homes while making permanent repairs.
FEMA deployed staff to support survivors before, during and after Hurricane Michael made landfall. At the height of the response in mid-November, more than 1,220 federal employees were assisting with response efforts. FEMA has hired 68 local Floridians to assist with response and recovery efforts.
In addition, FEMA's Interagency Recovery Coordination Group continues to work with the state and the designated counties and their communities to help identify and coordinate financial and other resources to meet needs beyond what FEMA, the state and other programs can cover.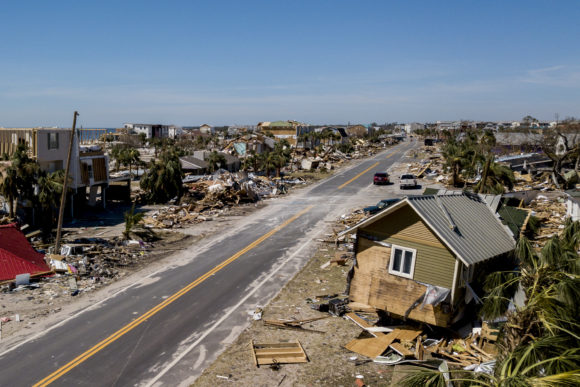 Seven long-term recovery groups have been formed across the Panhandle to address unmet needs of survivors in their communities.
"As the costs of disasters continue to rise, governments and residents must find ways to reduce hazard risks to our communities," FEMA said in a statement.
Under the presidential declaration for Hurricane Michael, all areas within the State of Florida are eligible for assistance under the Hazard Mitigation Grant Program (HMGP). HMGP funding helps communities eliminate or reduce future disaster-related damage. In general, individuals may not apply directly to FEMA for HMGP funding, but may be sponsored through a local government, tribe or private nonprofit. All applications from local governments or others are submitted to the state, which receives and distributes HMGP funds from FEMA.
Florida personal lines insurer Florida Specialty Insurance Co. (FSIC) has been ordered into receivership and will be liquidated after state regulators determined the company is insolvent and unable to establish a viable business plan moving forward.
The Florida Department of Financial Services has been appointed as the receiver and the insurer's more than 90,000 policyholders have been notified to find a new insurance company immediately. DFS has also alerted agents to assist their policyholders with finding new coverage.
The move comes after regulators say they have spent more than a year helping the company develop a plan to continue, and just over a month after ratings agency Demotech downgraded its Financial Stability Rating (FSR) of the company from A (Exceptional) to M (Moderate).
The Florida Office of Insurance Regulation alerted DFS that grounds existed for the initiation of delinquency proceedings by DFS' Division of Rehabilitation and Liquidation on Sept. 27, and the order was executed on Oct. 2 by the Second Judicial Court in Leon County.
OIR said in an email to Insurance Journal the company has about 90,000 policies in force in Florida, with the majority of those (40,000) being homeowners and 28,000 being mobile home policies. The company also wrote dwelling fire, HO-6, and wind only policies. All of the company's policies will terminate on Nov. 1, 2019.
OIR placed Florida Specialty under administrative supervision in March of this year and said it has attempted to help Florida Specialty for over a year to develop a viable business plan.
"When it became clear that Florida Specialty was unable to develop such a plan, OIR worked with the Department of Financial Services, Citizens Property Insurance Corporation, and FIGA [Florida Insurance Guaranty Association] provide Florida Specialty policyholders with a path for coverage options in the private market or guaranteed coverage with Citizens if private market coverage could not be secured," said Florida Insurance Commissioner David Altmaier in a statement to Insurance Journal. "Our goal has been to protect consumers, who are especially vulnerable during hurricane season, and to encourage consumers to seek coverage in the private sector. While we never want to see an insurer go into receivership, the good news is that we have a safety net in place to protect consumers."
OIR detailed four bases for Florida Specialty to be entered into receivership in an affidavit from Virginia Christy, OIR's director of the Property & Casualty Oversight business unit, including:
Florida Specialty is impaired or insolvent or about to be
Further transaction of insurance by Florida Specialty is hazardous to policyholders, creditors, stockholders or the public
Florida Specialty has willfully violated Florida Law
And Florida Specialty have consented to rehabilitation or liquidation.
OIR contends in the affidavit that Florida Specialty is operating under the $10 million surplus required by Florida Insurance Code due to tax liabilities that it will not be able to meet because of its lack of positive income and non-recoverable reinsurance amounts.
OIR also states Florida Specialty saw a "sudden and significant" decrease in surplus and profitability of $14.5 million in policyholder surplus as of the second quarter of 2019 – a 59.1% decrease compared with the second quarter of 2018. OIR noted Florida Specialty experienced an adverse loss reserve development pattern between 2017 and 2018 and has been "consistently underestimating its actual losses and failing to establish adequate reserves for those losses."
In addition, OIR said Florida Specialty violated the terms of the administrative supervision order it entered into with the regulator in March for the purposes of "protecting its assets and the interests of its insureds," according to OIR. In July, the order was extended through Nov. 15.
OIR said that Florida Specialty was to obtain prior written consent from the office before conducting certain activities as part of the supervision order that it agreed to. However, in April, Florida Specialty announced it would non-renew a portion of its HO3 portfolio without prior approval from OIR.
OIR stated it worked with Florida Specialty during the administrative supervision to "review and evaluate multiple proposals, acquisition offers, renewal rights agreements, and other agreements that would facilitate a transfer of its policyholders to reliable insurers. No proposal submitted has proved to be viable."
In an e-mail to Insurance Journal, OIR said that over the last year Florida Specialty was required to file a corrective action plan that included a solution for the ongoing operation of the company including a sale, merger, change of business plan or other measures to address its "hazardous financial condition." It also requested information regarding its reinsurance program to demonstrate that Florida Specialty had sufficient catastrophe insurance to provide for the upcoming hurricane season, requested a schedule of outstanding claims and renewals, and placed a limit on its expenditures.
Multiple requests for comment emailed to company officials were not returned.
History of Issues
Demotech noted Florida Specialty's financial troubles in early 2018 in a Florida insurer ratings update that indicated more than a dozen Florida domestic insurers could face potential rating actions due to a combination of 2017 catastrophe losses and assignment of benefits litigation, as well as judiciary changes in the state that could impact insurers. All of the insurers were later affirmed except Florida Specialty, which Demotech affirmed shortly after the firm developed and planned to implement a business plan that Demotech said at the time met its criteria.
That business plan included a loss portfolio transfer of the company's net losses to Sirius America Insurance Co., as well as reinsuring the balance of its net premium effective Feb. 28, 2018, also with Sirius America. That plan was pending OIR approval.
On Aug. 2 of this year, Demotech again affirmed Florida Specialty's "A" FSR based on the company's measures undertaken to revise its business model. However, on Aug. 16 Demotech issued a ratings downgrade, saying in a statement on the downgrade that the action was "necessary despite potential transactions being pursued by the company."
Demotech President Joe Petrelli said in an email to Insurance Journal that the transaction that was referenced in the 2018's ratings update and the transaction mentioned in its August press release are "separate and distinct."
In the ratings downgrade announcement in August 2019, Demotech said that Florida Specialty reported surplus in excess of the $10 million statutory minimum as required by Florida Insurance Code, but that the company noted in its most recent financial statement it had "substantial doubt" in its ability to continue operating "given the current environment in the state of Florida and none of the transactions under consideration have been executed."
"The company, albeit above the state minimum as to surplus, does not meet the financial metrics associate with an FSR of A," Petrelli noted.
Despite Florida Specialty's issues, Petrelli maintained that Florida Specialty "has plenty of cash and was well positioned for a voluntary runoff."
Petrelli told Insurance Journal that while the liquidation should work for consumers, he is concerned about the cancellation of the company's reinsurance.
What's Next
The focus for regulators has now turned to ensuring Florida Specialty's 90,000-plus policyholders find a new insurer and any outstanding claims are settled.
DFS began notifying policyholders and agents of the Florida Specialty liquidation last week and has provided information on its website on how to obtain new coverage and handle open claims. In an October 2 email to agents, DFS said the liquidation order legally imposes certain obligations on agents and they are expected to contact policyholder clients and assist them with any questions regarding the receivership proceeding.
"As an agent for FSIC … you are required to provide a written notice of the receivership, by registered or certified mail, or by email with delivery receipt required, to the last known address of policyholders whose policy has not been replaced or reinsured with a solvent authorized insurer," the letter states.
Agents are advised to first look for coverage in the private market for any Florida Specialty policyholders and if that is not available, coverage can be placed with Citizens Property Insurance Corp.
Consumers must have an agent in order to access coverage through Citizens. Spokesperson for Citizens Michael Peltier told Insurance Journal that Citizens will assist consumers in finding an agent if they do not have one.
"Part of Citizens' statutory mission is to protect Florida homeowners when they need it most," said Barry Gilway, Citizens president/CEO and executive director. "Having 90,000 homeowners unexpectedly lose coverage in the middle of an already active hurricane season meets that criteria. We are working with the Department of Financial Services and Office of Insurance Regulation to provide an expedited process for Florida Specialty policyholders who need coverage to obtain an offer from Citizens."
Gilway added that going forward, Citizens will continue to work with the private market through Citizens depopulation program and the Property Insurance Clearinghouse to find comparable private options for policyholders and maintain Citizens' role as Florida's residual insurer of last resort.
Citizens will begin reaching out to policyholders this week and has set up a website for information.
The Florida Insurance Guaranty Association [FIGA] will be responsible for any payment of covered claims occurring prior to the finding of insolvency and will provide coverage for policyholders for the 30-day period between the order of insolvency and the cancellation of the coverage (Nov. 1). FIGA will also return unearned premium to Citizens or policyholders. OIR said Florida Specialty currently has 60 open Hurricane Michael claims.
The Florida Association of Insurance Agents (FAIA) is also working with its agents to assist them with obtaining coverage for their insureds. FAIA President and CEO Jeff Grady said the association is thankful that Citizens has created a safety net for the more than 90,000 policyholders now needing a new insurer.
"Not only has Citizens created an expedited process for obtaining coverage, but they have also worked out an arrangement with FIGA for the easy transfer of any returned premium that is due," Grady said. "Finally, Citizens has also created a relatively easy appointment process for agents that are not currently appointed with the company. Most Florida Specialty policyholders will likely experience an increase in their annual premium, whether they are able to find coverage in the private market or from Citizens."