Friday, September 30 2022
Wind and storm-surge losses from Hurricane Ian could reach as $47 billion in Florida alone, a figure made larger by inflation and rising interest rates, the property analytics firm CoreLogic said in a new analysis.
"This is the costliest Florida storm since Hurricane Andrew made landfall in 1992 and a record number of homes and properties were lost due to Hurricane Ian's intense and destructive characteristics," said Tom Larsen, associate vice president for hazard and risk management at CoreLogic.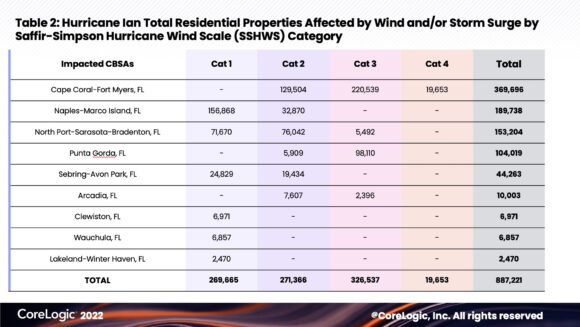 Wind-damage losses in Florida, where Ian made landfall Wednesday afternoon near Fort Myers, are expected to be between $22 billion to $32 billion for residential and commercial properties. Storm-surge damage could add another $6-$15 billion, CoreLogic calculated. The analysis was based on high-resolution imaging and storm-surge computer modeling, the firm said.
CoreLogic said its calculations include insured and uninsured losses, and Hurricane Ian has yet to make another predicted landfall in South Carolina as a Category 1 storm on Sept. 30, but to begin to put Hurricane Ian into a historical perspective, below is a list of the costliest U.S. hurricanes to the insurance industry.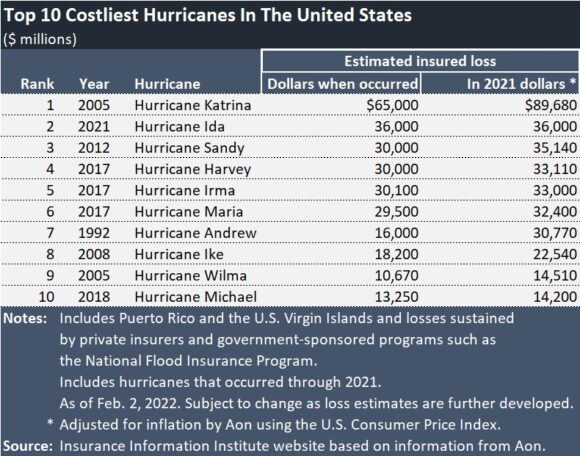 With inflation at a 40-year high, interest rates near 7%, and labor and building materials in short supply, recovery will be slow and difficult.
"Hurricane Ian will forever change the real estate industry and city infrastructure," Larsen said in a news release. "Insurers will go into bankruptcy, homeowners will be forced into delinquency and insurance will become less accessible in regions like Florida."
Besides winds and surge on Florida's southwest coast, Ian also caused widespread flooding inland in Florida. The storm by Friday morning had weakened, then strengthened as it aimed for coastal South Carolina with 85-mph winds, the National Weather Service reported.
Larsen said the storm will likely be a wake-up call, spurring stronger building codes and more resilient infrastructure.
ICEYE, the satellite imagery firm, reported that almost 84,000 properties in coastal southwest Florida were affected by storm surge and flooding during Ian, as of Thursday afternoon. Most of those felt less than two feet of water, but 284 were hit by floodwaters above eight feet, the company reported.
Thursday, September 29 2022
Hurricane Ian continued to churn through central Florida Thursday morning, leaving widespread flooding and wind damage in its wake. It was too early to know the extent of property insurance claims from the storm, although a few analysts and officials offered some preliminary estimates.
Some in the industry are now worried that extensive losses from the storm, which made landfall north of Fort Myers with an estimated 12-foot storm surge, could be devastating for Florida's largest and fastest-growing property insurer – the state-created Citizens Property Insurance Corp.
Citizens' CEO Barry Gilway said Wednesday that preliminary estimates have put claims at about 225,000 and potential exposure at about $3.8 billion, a spokesman for the insurer said. That's likely not enough to force an assessment on policyholders, he said, in response to a reporter's question.
A former deputy Florida insurance commissioner, Lisa Miller, warned that if losses exceed the corporation's reinsurance coverage, Citizen policyholders could see a 15% surcharge for all three of Citizens' accounts – as much as 45% per property.
If Gilway's estimate holds true, it would mean Citizens avoided a worst-case scenario with the powerful storm. The Office of Insurance Regulation's quarterly reports, based on insurer data, shows that for the five coastal counties most affected by Ian, Citizens holds more than 60,000 policies with a total exposure of at least $17.5 billion.
The OIR's Quarterly and Supplemental Report, known as QUASR, shows that another insurer, the Palm Beach Gardens-based Olympus Insurance Co., has significant exposure. For the hard-hit coastal counties of Manatee, Sarasota, Desoto, Charlotte and Lee, Olympus had some 13,800 policies in the second quarter of this year, with $11.3 billion in exposure.
The report does not give a complete picture of the market. A number of Florida-based insurers do not report their data or allow them to be made public, calling the information "trade secrets." But the Olympus numbers are notable. Statewide, the firm had some 79,000 policies and $233 million in total written premium.
Olympus CEO Steve Bitar could not be reached for comment about the Ian exposure.
Other insurers with billions in exposure in the five coastal counties include:
Three USAA companies, with $6.8 billion in total exposure, including wind coverage
Cypress Property & Casualty Insurance Co., with $4.4 billion
Castle Key Indemnity Co., part of Allstate Insurance, with $4.3 billion
TypTap Insurance, with $3.7 billion.
Insurance industry insiders said it's difficult to judge which carriers are most vulnerable without knowing the extent of their reinsurance programs, information that is not usually made public.
Statewide, claims from Hurricane Ian could total as much as $30 billion, a Wells Fargo analyst told Barron's financial news site. Another analyst told Barron's that the storm could also lead to higher reinsurance premiums, a tough call for some insurers already struggling with reinsurance costs that spiked as much as 50% this year.
Meanwhile, the Florida OIR said that insurers should begin daily reporting of catastrophe claims as early as Friday, Sept. 30, through Friday, Oct. 7. The data should be reported each day before noon Eastern time, through the simplified 2022 catatastrophe reporting form, or CRF, OIR said in a bulletin Wednesday.
Insurance Commissioner David Altmaier also issued an emergency order that requires insurance companies to extend deadlines for insureds. For any policy or other notice that requires policyholders to provide information by Sept. 28, the time has been extended to Nov. 28.
Insurers also are barred from cancelling or non-renewing policies until after Nov. 28, the order reads. All notices that were mailed after Sep. 18 must be withdrawn and reissued to insureds after the November date. In addition, insurers should not cancel residential policies on damaged homes in Florida until 90 days after the dwelling has been repaired.
Rate and form filings known as "use and file," which are not reviewed by OIR until later, are suspended for now.
Hurricane victims that utilize premium financing and have lost their homes or jobs should contact the OIR.
"Victims of Hurricane Ian will receive an automatic extension of time to and including November 28, 2022, to bring their accounts up to date," the order noted. "No late charges will be applied to any late payments received which were due on their accounts between September 28, 2022 and November 28, 2022."
The OIR also said it expects claims to be paid in a timely manner.
"Given the strength and size of Hurricane Ian, its expected catastrophic effect on Florida, and its potential impact on hundreds of thousands of policyholders, the Office expects all insurers and regulated entities to implement processes and procedures to facilitate the efficient payment of claims," the order reads. "This includes critically analyzing current procedures and streamlining claim payment processes as well as using the latest technological advances to provide prompt and efficient claims service to policyholders."