Friday, September 30 2022
Wind and storm-surge losses from Hurricane Ian could reach as $47 billion in Florida alone, a figure made larger by inflation and rising interest rates, the property analytics firm CoreLogic said in a new analysis.
"This is the costliest Florida storm since Hurricane Andrew made landfall in 1992 and a record number of homes and properties were lost due to Hurricane Ian's intense and destructive characteristics," said Tom Larsen, associate vice president for hazard and risk management at CoreLogic.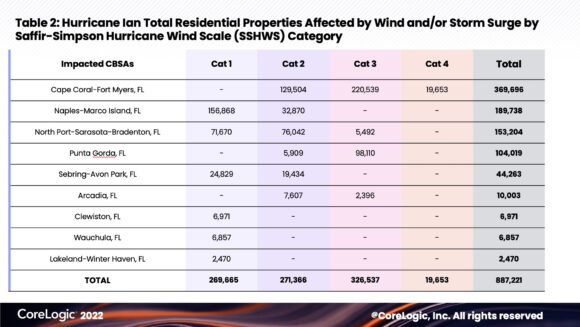 Wind-damage losses in Florida, where Ian made landfall Wednesday afternoon near Fort Myers, are expected to be between $22 billion to $32 billion for residential and commercial properties. Storm-surge damage could add another $6-$15 billion, CoreLogic calculated. The analysis was based on high-resolution imaging and storm-surge computer modeling, the firm said.
CoreLogic said its calculations include insured and uninsured losses, and Hurricane Ian has yet to make another predicted landfall in South Carolina as a Category 1 storm on Sept. 30, but to begin to put Hurricane Ian into a historical perspective, below is a list of the costliest U.S. hurricanes to the insurance industry.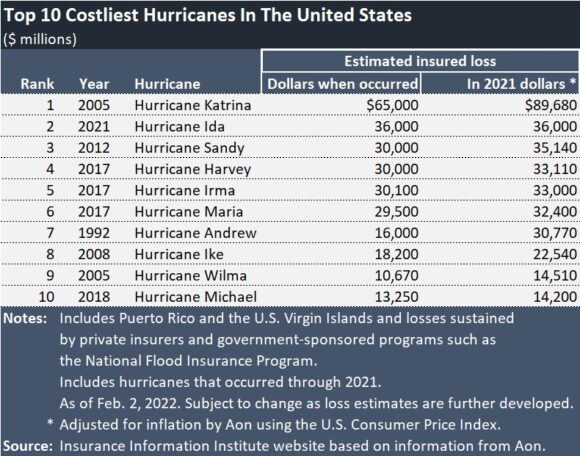 With inflation at a 40-year high, interest rates near 7%, and labor and building materials in short supply, recovery will be slow and difficult.
"Hurricane Ian will forever change the real estate industry and city infrastructure," Larsen said in a news release. "Insurers will go into bankruptcy, homeowners will be forced into delinquency and insurance will become less accessible in regions like Florida."
Besides winds and surge on Florida's southwest coast, Ian also caused widespread flooding inland in Florida. The storm by Friday morning had weakened, then strengthened as it aimed for coastal South Carolina with 85-mph winds, the National Weather Service reported.
Larsen said the storm will likely be a wake-up call, spurring stronger building codes and more resilient infrastructure.
ICEYE, the satellite imagery firm, reported that almost 84,000 properties in coastal southwest Florida were affected by storm surge and flooding during Ian, as of Thursday afternoon. Most of those felt less than two feet of water, but 284 were hit by floodwaters above eight feet, the company reported.